Quality RV & TRAVEL TRAILER RENTALS
The exceptional selection of RV rentals available from Advantage Caravans offer portable convenience, homey living areas and modern amenities that truly make them road-savvy homes-on-wheels. Contact us today at (916) 832-8824 or request a reservation online to take the first steps in your next big adventure in Sacramento, CA, and beyond.
VIEW ALL RV RENTALS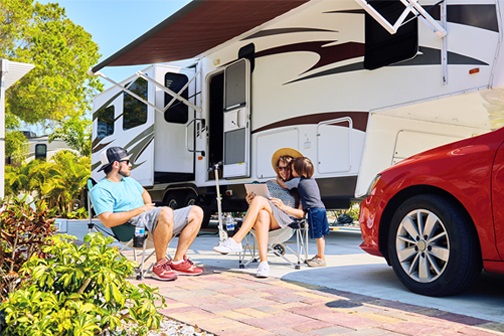 Why choose advantage caravans?
The best part of an RV rental is that your travel options are endless. Stay for a day or two months. Venture into the wilderness or stay near a bustling city. Whether you take that special someone on a romantic getaway or the whole family on vacation, make sure to treat yourself to an RV road trip this year. To request a reservation for a motorhome or travel trailer rentals in Sacramento CA, call Advantage Caravans at (916) 832-8824.
Fully Loaded RVs for Rent
We offer all shapes and sizes of RV rentals that sleep up to eight people comfortably. Our entire fleet contains convenient amenities like an in-house bathroom and shower so you can avoid the campground's communal bathrooms, and a kitchen complete with an oven, stove and microwave. For your comfort and entertainment, the rentals also feature a TV and DVD player, water heater, and air conditioning. These amenities are invaluable in California, especially if you are participating in any of this year's special events. Regardless of where you go, motorhome and RV rentals in Sacramento allow you to have everyday conveniences in some of the nation's best –and most remote- locations!
While we focus on RV rental services, we don't stop there. Advantage Caravans also offers several camping accessories that you can rent with your camper. Bikes, BBQ grills, and generators are our most popular requests. These extras add even more fun and a whole new level of comfort to your camping experience.
Additionally, we also offer RV transporting services. If you need an RV rental in another state, we'll be happy to accommodate you. We'll even deliver RVs to your location at many of the special events and fairs in the area, including the Sacramento State Fair, Colusa Farm Show, California County Fair, Infineon Race Track, and many Christmas Tree and Fourth of July lots.
VIEW ALL RV RENTALS
Long-term & Temporary Rentals
Because we put customers first, we provide our services and rentals for those in need of long-term or temporary housing and storage. If you're left without a home after a disaster or are in need of temporary housing during a business or home project, we can help you choose the perfect RV rental option. We'll even deliver and set it up at the location of your choice, and pick it up when you're finished. From our largest, family-sized RV that can house up to eight people, to our smaller travel trailers that comfortably accommodate two, our units are ready for you. We also work with a number of insurance companies to reduce claims related to house damages. If this service is of interest to you, please contact us today at (916) 832-8824.
Superior RV Rental Experience
Whether you will be camping in Sacramento or exploring other parts of California, the RV rental professionals at Advantage Caravans are ready to serve you. Contact us today at (916) 832-8824 to make a reservation. When you rent a motorhome from Advantage Caravans, you can expect great prices on dependable rentals, as well as customer service that goes the extra mile.